Frothingham Electronics | For more information, visit us at www.frothingham.com
---
---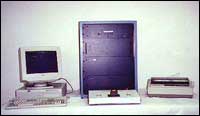 FEC200 Diode Tester
The FEC200 is an automatic computer- controlled diode and rectifier tester. It is controlled by a standard PC-compatible computer running FreeDOS.
The testing software is very powerful, yet the easiest to use. Four multiplex stations are built in. There are no expensive external multiplexers to buy, and the readings on all four stations are identical.
Several types of tests have been added that are not available on the older generation testers you may be using.
For example THERMAL RESPONSE is built-in. Several tests are included to test for SHARP AND STABLE.
These testers are equally at home doing very high speed production sorting or accurate QC or HI-REL testing with data-logging and statistics. Reports for statistical process control (SPC) are very easy to produce.
These testers use highly reliable hardware modules that have been proven in the field for more than ten years. They are thoroughly documented and very easy to service. We use a standard PC and printer.
Easy to Program
Accurate
Reliable
Fast
Includes Thermal Response
1KHZ Zener Impedance
Data Logging
SPC
Fully Documented
Easy Interface to Most Handlers
Up to 75 Tests Per Program
Up to 16 Sorts
40 amp
VF Testing
2000V IR Testing