Frothingham Electronics | For more information, visit us at www.frothingham.com
---
---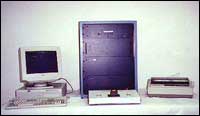 FEC200E Diode Tester
The FEC200E is an automatic computer- controlled diode and rectifier tester. It is controlled by a standard PC-compatible computer running FreeDOS.
This is a successor to our longstanding and successful tester FEC200. The FEC200 is described in detail on this site. The "E" version has all of the same capabilities as the original tester. In addition the "E" version has hardware and software enhancements to support various optional external test stations. These stations may add additional tests such as those used to test TVS devices. They may also extend the voltages and currents available in the host tester.
When a special station is used, all of the tests normally provided by the FEC200E are still available. So with one insertion the diode may be tested for all of the usual FEC200E tests in additional to the new tests added by the special station.
To support this extra capability new software named MAXX3 is provided. MAXX3 although more powerful than the original MAXX will run programs written for MAXX while also converting the programs to the MAXX3 format so that new tests may be entered.
Easy to Program
Accurate
Reliable
Fast
Includes Thermal Response
1KHZ Zener Impedance
Data Logging
SPC
Fully Documented
Easy Interface to Most Handlers
Up to 123 Tests Per Program
Up to 16 Sorts
40 amp or more with a special station

VF Testing
Reverse testing to 2000V or more with a special station