Frothingham Electronics | For more information, visit us at www.frothingham.com
---
FEC Home /
---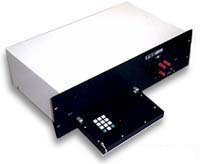 FEC: The Worldwide Leader in Diode Testing
Frothingham Electronics Corporation diode testers are used worldwide by leading diode manufacturers and independent testing labs.
The aerospace industry and military suppliers rely on our diode testers and scanners. Increasingly, automobile alternator re-manufacturers are using our equipment for testing alternator rectifers.

Do you know what you want to test and how you want to test it? Start with our Product Matrix to determine which FEC diode tester fits your needs.
FEC's industrial diode testers and scanners, such as the FEC200E Diode Tester, are known for their easy-to-use software, flexibility, affordability and reliability.

Look at our standard handler interface

FEC diode testers are engineered and manufactured in Wakefield, New Hampshire, USA.
Frothingham diode testers are all built to test diodes within MIL-SPEC 19500 and have been specifically designed to test zeners, rectifiers, bridges, signal diodes, thyristors, current regulators and TVS diodes.
This site offers specifications on our range of testers and information for test operators. We are developing a customer support section of the site that includes technical manuals, schematics and troubleshooting tips for our products. The FEC200 Technical Manual is now online.
More questions? You can contact us by email or telephone, or use our Request Information form.
For die-sorting equipment, visit Electrosort Automation.