Frothingham Electronics | For more information, visit us at www.frothingham.com
---
---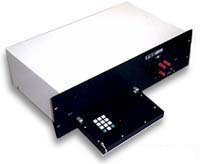 FEC VF40CM Diode Tester
The VF40CM is intended for testing VF, HALF CYCLE SURGE, and THERMAL RESPONSE/RESISTANCE on small- and medium-power diodes and rectifiers. It can also measure THERMAL RESPONSE/RESISTANCE on NPN and PNP bipolar transistors using an external user-supplied VCB supply.
The VF40CM also is sometimes used to measure VZ of low-voltage zener diodes up to the compliance voltage limit of the tester. 20V at 20A is possible.
The tester can be used alone, programmed by its built-in keypad and LCD display or it can be programmed remotely with a PC. We supply at no extra charge a very powerful software program (VFS2) for your PC that can produce many useful plots or datalog files.
Also supplied is another program (STATS) that produces statistical reports using data captured by VFS2.